Weathering the weather!
January 2014 was the wettest for England & Wales since 1766. December 2013 was the windiest in the UK since records began in 1969.
As at 13 February 2014, the Environment Agency had in place 17 Severe Flood Warnings, 131 Flood Warnings & 242 Flood Alerts. At one point there was a severe flood warning in every part of the UK.
The Environment Agency pumping operation on the Somerset Levels is the largest ever seen – at its height some 2.9 million tonnes of water were being pumped out every day – the equivalent of three Wembley Stadiums.
Airwave's Early Warning System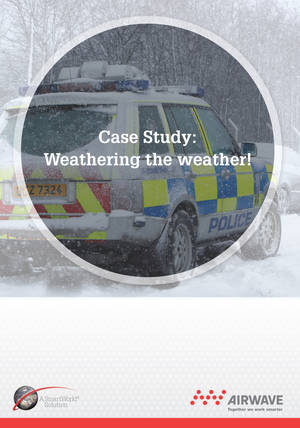 To ensure Airwave supports its users in the most comprehensive way possible during severe weather, our dedicated Business Continuity (BC) Team has access to a number of warning and informing sources. These include the regional and national Meteorological Office, the National Severe Weather Warning services, the Environmental Flood warning service and Local Strategic Coordinating Groups. Airwave teams also constantly monitor weather reports and newsfeeds to ensure we can pre-empt requests for additional support – this is Business as Usual activity.
When early warning of severe weather is received, the BC Team assesses the potential impact to Airwave's Emergency Services Network. On warnings categorised Amber or above, we activate the Severe Weather Plan to mitigate that impact.
Our Network Management Centre (NMC) will initiate a group call that includes all Field and Engineering Managers, the Business Continuity Team, and key suppliers.
This initial call will establish the mitigation measures that we will put in place to deal with the weather. These can include:
Relocation of engineering resource
Movement of mobile assets such as generators and base sites
The requirement for any mutual aid or assistance
The requirement for radio planners and engineers to assess the Network impact and manage affected sites
This gives the Major Incident team a base line before the weather hits. Airwave's Service Relationship Managers will liaise continuously with the emergency services to ascertain the issues, and provide our Major Incident team details of their priorities. In addition, any affected sites will be cross-referenced against the critical sites detailed in the Force/Trust/Services BC Disaster Recovery Plans.
Norfolk tidal surge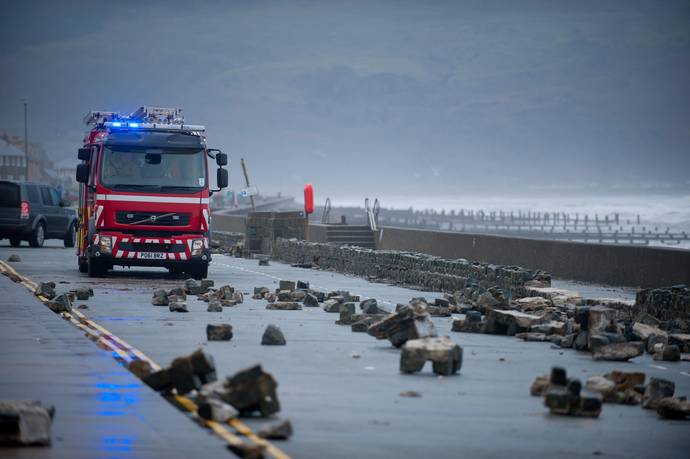 One example of how this plan works effectively was demonstrated during the tidal surge on the Norfolk coast, where there was an Airwave site at risk of suffering flood damage. The early warning system and Severe Weather Plan enabled mutual aid to be requested, and with the help of the Fire and Rescue Services, flood protection was quickly put in place on the site. Coordination with the Police alerted all potential users, and Airwave deployed a mobile base site for added resilience.
From a Major Incident management perspective, flood warnings are the least complicated to manage. Our engineers all have local knowledge of sites that are at risk. In addition, the NMC holds the details of the height above ground for all sites. This is cross referenced with the Environment Agency flood guidance maps. For those at risk we will carry out mitigation where possible, as happened with the Norfolk tidal surge.
Situation on 13 February 2014 (Weather Warning – Wind)
At 16:00 hours on 13 February, there were only 25 site issues throughout the country.
Advance planning meant that we had 16 mobile generators positioned and/or deployed in the key areas where power was an issue, Service Restoration Vehicles and mobile base stations were in position in key locations.
The primary concern for this Weather Warning was the impact of the wind, in particular the failure of power caused by damaged transmission lines. Over the 24 hours from 13-14 February, Airwave had 84 sites with no mains power and running on batteries or generators. The sites running on batteries were closely monitored and liaison with the emergency services took place in order to prioritise to which sites we should deploy a generator. This power resilience means that services to users remain unaffected.
Constant support, continuous communication
During severe weather, we are constantly in touch with our customers to ensure the Network is performing to their requirements, and to ensure action is taken when necessary to ensure the best possible service in a crisis situation. One example is a site covering the Thames/Surrey border. Monitoring showed that users were experiencing some congestion – all event talk groups and Mutual Aid. Within six hours, the Major Incident team had completed the installation of extra capacity to the site which alleviated the issue.
Advance planning means that Airwave is in the best possible position to respond to any situation. What became apparent during more than six weeks of relentless severe weather is that this robust and continually revised pre-planning is equally as important as the technical resilience built in to Airwave's Network itself. Together with our committed personnel and our professional customers, we can ensure that the Emergency Services Command and Control system remains operational, no matter what.