London 2012 Olympic and Paralympic Games
Helping to stage the inspirational London 2012 Olympic and Paralympic Games.
London 2012 showed Great Britain at its best and Airwave is proud to be part of that success...
London 2012 proved a remarkable success story for Great Britain. For Airwave, providing a private mobile radio (PMR) service fit for the world's largest sporting meant completing a programme of significant scale, complexity and geographic reach in record time.
The Games set new standards and innovations for sporting events. So too did Airwave, with enhancements to its TETRA radio communications network supporting multiple public safety agencies and tens of thousands of additional users, alongside the creation of a new TETRA PMR radio network for the Games staff and volunteers.

Event organisers LOCOG had an objective to stage an inspirational London 2012 Games for the athletes, the Olympic Family and the viewing public. The technology vision underpinning that was to inform, engage, connect and enable people.
Airwave was selected to be the first ever official PMR provider in a Games event because of our track record in providing mission critical communications for Great Britain's emergency services. Some 18,000 LOCOG staff and volunteers were reliant on the Airwave PMR service to run their Games-time operations.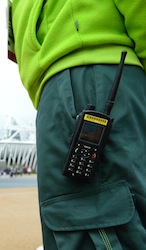 With public safety paramount and the eyes of the world watching, the Games were the biggest peacetime security operation ever seen in Great Britain. On peak days, some 15,000 police officers were deployed on Games operations from 52 police forces nationwide. They were supported by 18,000 military personnel and of course the 70,000 Games Maker volunteers.
The scale of the Games meant that it was crucial for Airwave, the trusted provider of mission critical radio communications to public safety users nationwide, to be ready to accommodate the increased demands that London 2012 would bring. With the significant increase in public safety workers in and around all the Games venues, Airwave implemented a major software and hardware upgrade to the existing Airwave Network to provide additional capacity and resilience, as well as building the bespoke PMR network to meet the requirements of LOCOG.
When the London 2012 Olympic and Paralympic Games celebration parade concluded outside Buckingham Palace on 10 September 2012, Airwave proudly added to their list of achievements, having successfully played our role in ensuring that the Games were safely delivered and that the public had a secure and enjoyable experience.