Preparing the way for Mission Critical Data over LTE
The Emergency Services Mobile Communications Programme (ESMCP) has been put in place by the government to look at the future of mission critical communications. Technology is evolving, and commercial networks are rolling out high speed LTE capability with the promise of ever-faster data downloads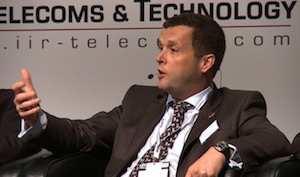 LTE stands for Long Term Evolution, and is the next generation technology being rolled out by UK commercial operators. Work is underway to enhance LTE to enable it to deliver mission critical communications in the future with the exacting features required by the blue light services.
We all agree that LTE is the long term future for the emergency services, but there is naturally much debate about when that future will arrive. In the meantime, how can we help mission critical communications users define the types of services they will require in that LTE future? And importantly, how can we help them take advantage of new, data-rich technologies today without the need to wait for this LTE capability?
Rather than waiting for LTE to be fully rolled out and then starting to explore the possible public safety applications', Airwave is exploring these today, so that we are able to exploit current and future technologies as quickly as possible. The starting point is the definition of 'mission critical' – which data applications and voice services merit the term? Blue light voice services are almost always mission critical, because they are used to manage, co-ordinate and control incidents, but data, which is visual, is less easy to categorise.
Police officers in the thick of an unfolding riot situation may have no time to look at data, whereas control room personnel could use streaming of live video reports of the situation to deploy immediate back-up by issuing instructions via a talk group, utilising mission-critical voice.

The emergency services and all other users of the Airwave Network currently have access to specific spectrum which is not available to commercial users. With mission-critical broadband capability on the horizon, industry is lobbying for continued dedicated spectrum, to ensure users do not have to start fighting consumers for bandwidth.
To help define the business case for dedicated spectrum, we need to consider how critical broadband data services will affect the network. If users can test and evaluate mobile broadband applications, this will catalyse ideas for the future. We all know from our consumer services that there are hundreds of thousands of apps out there. But mission critical ones? We need to identify and prove the benefits.
Airwave is working with Surrey Police on a mobile video pilot and enablement of ANPR data streaming, using Airwave's 4GMax solution. This uses the existing commercial mobile networks to deliver more bandwidth to vehicles, in particular to address uplink capacity to enable live video streaming from vehicles. As consumers, we 'consume' data – most of the time we are downloading data and that's where the bandwidth is. From a public safety perspective, it's the uplink for sending data that is more often important. Similarly, Airwave is working with Hampshire Fire & Rescue Service on a solution that will deliver remote Incident management capabilities which has similarly already been used operationally. 4GMax works by aggregating bandwidth from the commercial networks, both cellular and wi-fi, and managing the multiple connections to create a multiple bearer high level architecture.
Rather than waiting for LTE to be fully rolled out and then starting to explore the possible public safety applications, Airwave is exploring these today, so that we are able to exploit current and future technologies as quickly as possible.
Coverage diversity increases the probability of service, providing greater resilience than reliance on a single commercial network, but still short of a mission critical service. Built-in load balancing maximises bandwidth availability, and capacity management enables intelligent use of each of the SIMs. The data packets are split and spread across the networks – smaller packets move faster. It's a secure solution, as no one party has all the data while it is in transit.
So how could 4GMax assist operational effectiveness? There are many applications: delivering more intelligence from the fire ground; enabling more interaction with the control room; sharing data with mutual agencies; providing a standardised applications gateway for a temporary incident-specific Police station, and capturing footage for evidential purposes.
When we ask our users about the perceived advantages of LTE, video is usually mentioned, but specific applications are less defined. Now we have the capability in-vehicle, and together with Surrey Police, Hampshire Fire and Rescue Service and other customers we can explore how to leverage the bandwidth and work out which data is mission critical, which is business critical, and which is neither.
Airwave is expanding the 4GMax pilot to Ambulance Services, looking at uses such as patient telemetry. We need to build and collate knowledge from across the blue light user community to ensure that we are able to exploit LTE's capabilities as and when it is proven ready and capable, while in the meantime take advantage of technologies that deliver enhanced data services and cashable savings for our customers today
- Euros Evans, Chief Technology Officer, Airwave.
ERROR: Content Element with uid "884" and type "menu_49" has no rendering definition!