Airwave's Omniguard – providing confidence and support to lone workers
Yorkshire Ambulance Service (YAS) covers almost 6,000 square miles of varied terrain, from isolated moors and dales to urban areas, coastline and inner cities. It employs around 4,200 staff and provides emergency and healthcare services to over 5 million people.
YAS has 999 communications centres in York and Wakefield that receive over 710,000 emergency calls per year – on average over 1,945 a day. The front line service has nearly 1,900 paramedics, emergency medical technicians (EMTs) and emergency care practitioners (EMPs) and over 500 specially equipped emergency vehicles operating from 62 ambulance stations.

Issues & Challenges
As with all ambulance services, YAS has a major focus on meeting national response time targets, in particular Red 1 and 2 - at scene within eight minutes. Part of YAS's strategy to meet its operational targets is to use lone workers more effectively. Experience has identified that lone workers in Rapid Response Vehicles (RRVs) can play a vital part in ensuring an emergency service presence at a potentially life-threatening incident within eight minutes, simply because they are often faster and more agile in certain situations such as areas of high traffic congestion.
For many years, YAS lone workers had used VHF hand portable radios with emergency buttons and SMS from a mobile phone. These mechanisms were found to have limitations in the modern working environment that meant they did not fully support YAS duty of care to lone workers in the field. However, the introduction of a digital radio system from Airwave allowed YAS to revisit the technical possibilities to improve this situation.
Four types of lone worker role were considered for additional support. Firstly, paramedic technicians in an ambulance - although 'double-manned', each is considered a lone worker because one is the driver and the other is in the back with patients and they are often separated at an incident site. Second, single manned Rapid Response Vehicle (RRV). Third, Cycle Response Units and, fourth, BASICS doctors (British Association of Immediate Care Doctors) who are part of the extended emergency services and support ambulance crews at serious road accidents and other trauma incidents.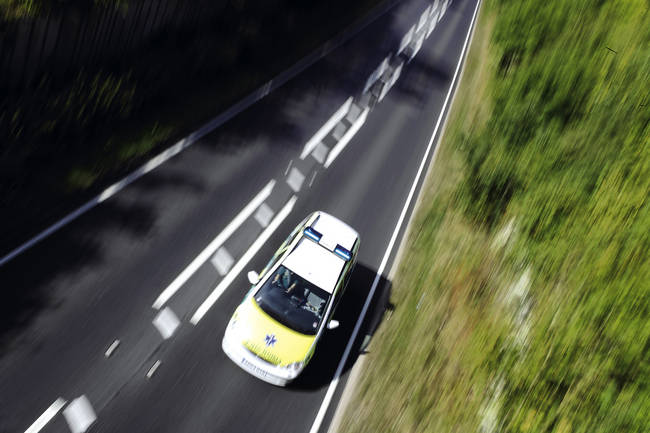 Five years ago YAS had a small number of cars in its fleet. Today over 50% of all response vehicles are cars, enabling an improved matching of resource to incident type with the aim of always working towards achieving a better patient outcome. In some instances, a patient may not need to go to A&E, the automatic first port of call for an ambulance. Instead they may be better served through being taken to a walk-in medical centre or other Primary Care Centre, which a lone worker in a car can facilitate.
Through employee consultation it became evident that some lone workers were concerned for their personal safety in certain situations and at night. Equally, YAS was focused on ensuring it met its duty of care whilst increasing Lone Worker / RRV coverage from 7am –11pm to 24x7 hours as part of its commitment to continuous improvement towards better patient outcomes.
To meet this mix of demands, YAS needed a practical, simple, reliable technical
solution that would support lone workers.

The Solution
YAS had used the Airwave Network for many years and Omniguard is a solution that is used on the Network to specifically support the increasing number of lone workers in the emergency services.
Core to Omniguard is that it puts the lone worker in control. Using a hand held portable radio the worker simply activates Omniguard through the main menu to let the control room know that they want to be monitored.
On a separate screen in the control room, the 'green status' identifies the user being monitored. Every five minutes an alert is sent to the device. If the user wants monitoring to continue, they press the button. If there is no response, then the user details on the screen in the control room turn amber. Another alert is sent two minutes later. Still no response and the details turn red and the control room knows that the worker may be in difficulty and the non-response becomes an incident in its own right and is escalated accordingly.

Of course, the lone worker always has access to the emergency button on the hand held radio. Omniguard provides an intermediary level of support and also confidence for the worker that the control room is aware that they have potential concerns about the situation they are encountering.
Over an 18 month period, 900 portable hand-held radios have been enabled with Omniguard and these are used across the shift system within YAS.
Omniguard delivers:
• Real-time status and location information
• Passive and active monitoring alarms
• Integration with Airwave radios used by the ambulance trusts
• The capability to be deployed as stand-alone or integrated with existing control room systems
• Monitoring that continues even if radios are out of coverage, lost, stolen or damaged

Results & Benefits
• Lone workers are confident that the control room knows their exact location and that they are not 100% comfortable about the situation they face
• Automatic escalation if the lone worker does not respond to the Omniguard alert – they know they are not alone
• The capability to use single-manned vehicles 24x7 – faster response with appropriate resource per incident enabling better patient outcomes
• Demonstration of YAS due diligence / duty of care through active support of lone workers.
• Consistent device used across Great Britain with single process
• Estimated cost of 50p per lone worker per day based on the shift system deployed due to radio sharing

Omniguard is a very useful addition to the support we provide to lone workers in the field. It's easy to use and has proved extremely important in supporting people who may be about to go into a situation they are not fully comfortable with. More and more of our lone workers are using Omniguard for the simple reason that they trust it and if you trust something to help you, you're going to use it.

Graham Elvidge, Radio Communications Specialist, Wakefield Control Room, YAS